This is a picture of Gracie the summer before she turned 3.
I had to share this picture with you because Gracie just loved this little halter style dress that she is wearing. It was a little big on her because she was such a little peanut (and still is). When Julie would ask Gracie what she wanted to wear, Gracie would say "Fruit Salad" because this little dress had all the fruits on it.
Gracie still LOVES her fruit and would eat it primarily for all her meals.
Raspberries are especially her favorites - so guess what her birthday treat is this week?
The cute little tag was made using the THIS LITTLE PIGGY Stamp Set and it makes me think of the ribbons that are handed out at the fair, and this is fair week here in Hudsonville. I love the opportunity to judge the 4-H Still entries during fair week. I can't even count how many hog albums that I judge. In fact Friday night and today we are judging at the fair and Gracie is with us and helping out with little Katy since she is too young to leave alone that long.
Everyone who purchases the BLENDED SEASONS BUNDLE is invited to a

FREE

CLASS on Monday night, August 20 at 7pm (TONIGHT) where we will make 3 cards using this amazing bundle, and for everyone who orders the BUNDLE you will receive a project sheet to make this cute box.
Check out this amazing exclusive Stamp Set BLENDED SEASONS. Purchase this BUNDLE
while supplies last
to make your Christmas cards and so much more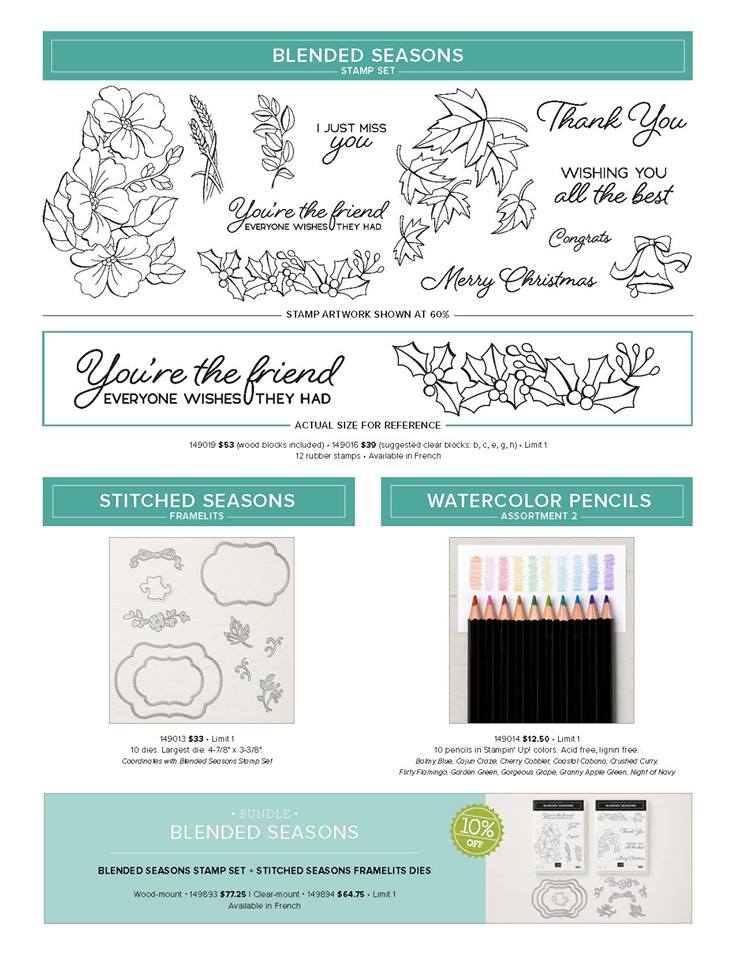 Thanks for stopping by today!
Here is the list to my quick links to contact me or to shop with me...
PLEASE USE THIS NEW HOSTESS CODE WHEN PLACING YOUR
ON LINE ORDER
Please contact me
HERE
to sign up for the August 20 Blended Seasons Product bases class.
Christi Waite, Christi's Creative Crew
christiwaite@gmail.com
Christicreativecrew.blogspot.com
http://www.stampinup.net/esuite/home/christiwaite/
Christi
Oh, My!! we are 3/4 way through this month already!
I am having so much fun with my sisters! Thank you for many of your well wishes for my mom for her 90th birthday - we certainly are having a good time celebrating her with just the little things in life. Tonight is family dinner night here at our house so it will be fun to spend some time together getting groceries and cooking this afternoon.
The sisters will be here shortly to pick my up for a little shopping this morning but I wanted to get this out to you ASAP so that you can take advantage of this...
GREAT AUGUST SPECIAL EXCLUSIVELY FROM ME!!
From now until August 30 For every ONLINE ORDER over $50, I will give you your choice of
ONE INK PAD for FREE.
This is an $8.30 savings for you when you calculate the shipping and tax into the $7.50 price of an ink pad.
You will also love our new sleek design that opens up just like your makeup compact
Click on over to my online store to start shopping
Here's a novel idea: Maybe it is time to stock up on the new colors of ink - you did see that we had a color revision this year, right??
For example: the color families: Bright, Neutral, Regal, Subtle come in a 10 pack bundle saving you 10% for only $67.50
If you are looking to get the IN COLORS: they come in a 5 pack bundle saving you 10% for only $33.75
OR if you want to snag up all the new colors to the line up they come is a 16 count bundle for only $108.00. which is also a 10% savings. AND this will get you 2 YES TWO! FREE ink pads
Please use this HOSTESS CODE when you check out, and be sure to leave your contact information so I will know who you are.
If you live in my area and will be picking up your FREE INK PAD (color of your choice) then email me what color you have chosen.
If you live a distance and I would need to ship your FREE INK PAD (color of your choice) then please add the ink to your order, and I will send you a reimbursement check as soon as I see your order come through.
If you are watching my blog posts you will be seeing a ton of inspiration of the new stamp sets, bundles, inks, accessories, and so much more. I just love this new catalog!
WHAT? you don't have your new Annual Catalog yet?? Well stop on by or email me and I will make sure you get a copy. IN FACT... I have the copies of the NEW HOLIDAY CATALOG as well. You are going to love this one too!!
Click
HERE
to jump to my blog for inspiration!
Pin It Now!